Taghi Miri, BSc, MSc, PhD – Managing Director
Taghi has more than 20-years experience in participating and leading food-related research projects (EU + UK). He is a Chemical Engineer by training. His expertise is Novel Food Processing,  Food Safety., and project managing. Taghi is the project manager of I3P and also will lead the machine design criteria and processing and pilot plant of I3P.
---
Maria-Styliani-Georgia (Melianneta) Kafyra  – Development Engineer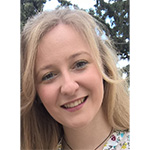 Mellianeta is a passionate and talented, and most creative chemical engineer graduating from the National Technical University of Athens, gaining a special distinction and academic awards. Currently is also a PhD candidate in NTUA. Her research started 3 years ago during her diploma thesis entitled "Development of microalgal origin innovative replacers of animal fat and proteins for the production of functional baked products" involving the design and optimization of microalgal physical processes such as extraction, drying , encapsulation and the development of innovative food products that are characterized by advanced quality, nutritional and sensory characteristics. She has participated in many research projects funded by the European Commission and General Secretariat of Research and Technology in Greece, targeting in the exploitation of microalgae and their extractions. She has also publications in international peer-reviewed journals, while she has collaborated with Greek food industries in order to promote the use of microalgae in food products.
---
Fakhteh Soltani – senior software developer
She will lead the development of digital tools and Artificial Intelligence (AI), as well as the Dissemination Plan on projects.
---
Christina Drosou  – Development Engineer
Christina is a competent and most innovative chemical engineer. She holds a MSc and Diploma in Chemical Engineering from National Technical University of Athens. Concurrently with her R&D work with KPAD, she is conducting her most promising a PhD Research, sponsored by Eugenides Foundation and she has awarded prestigious academic distinctions for her achievements and published work. Her research focuses on extraction and characterization of bioactive compounds, and on encapsulation processes (such as electrospinning/ electrospraying process, spray drying, freeze drying process). She has participated in Greece-Israel Bilateral R&T Cooperation 2013-2015, "Microalgae Sustainable Valorization for the Development of Innovative Functional Fruit Juices and Beverages".
---
Snezana (Anna) Vasits – Project Manager
Anna has a varied work experience, where she combines her artistic background and skills with her project management capacity. Anna has involved in numerous and complex projects, dealing with fine arts, interior design and project management work. In KPAD, Anna has contributed and practiced her diverse talents to deliver outstanding results in challenging projects. Anna with her dynamic figure and character is adding significant value to KPAD and leading KPAD's drive to maturity and commercial success.  Anna holds a diploma of School of Fine Arts, University of Arts, Belgrade, Serbia.
---
Katerina Adam – Director
Katerina is a passionate, enthusiastic and highly motivated person, where she combines her leadership and mentoring skills and talents to formulate KPAD strategy and inspire our people and stakeholders to deliver sustainable success. Katerina has more than 10 years of experience in the fast growing International Food and Agribusiness industry and is a renowned figure and expert in UK market. Katerina holds a Master of Science in Quality Management, Universities of Glasgow Paisley and Robert Gordon Aberdeen and a Degree in Statistics & Insurance Sciences, University of Piraeus – Greece.
---
Nikolaos Angelopoulos – Business Marketing developer
Nikolaos has been a professional volleyball player winning several titles both domestic and international. He is a member of the national volleyball team of Greece in all its categories (junior, youth, senior) with appearances in some of the major volleyball competitions such as World League, European League, and Champions League. Nikolaos is a graduate student of the Department of Marketing and Communication of the Athens University of Economics and Business with experience in Innovation Design Thinking in Mobile Applications and Services. Nikolaos is bringing to KPAD team his champion spirit and enthusiasm and he instils his tenaciousness to build a victorious and winning entrepreneurial team.